Why Choose our Fishing Gauges?
We don't do Printed Gauges!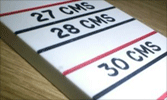 Don't confuse our products with similar on the market. You will find that most fishing gauges are screen printed to keep costs down. All our fishing gauges are machine engraved to ensure you get the most out of your gauge, when the printing has worn off on the competitions gauge Alexander Pollocks Fishing Gauges will still be perfect!
Machine Engraved to last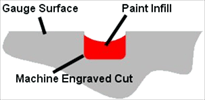 Alexander Pollock Fishing Guages are engraving using heavy duty machines. We are able to machine a deep cut in the material which is filled with plastic paint, as it fills slightly below the surface it is not going to suffer wear.
Contact Alexander Pollock
For more details about how Alexander Pollock can help your business, please fill in our contact form.
Fishing Gauges by Alexander Pollock
Worldwide Shipping Available